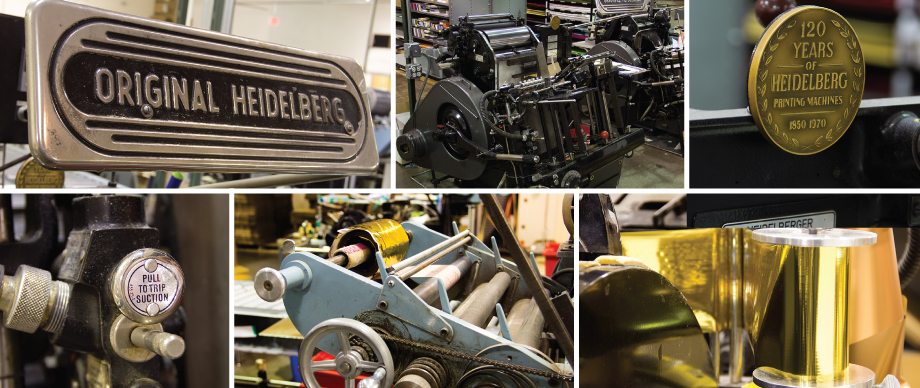 Beautiful Foil Stamped Wedding Invitations: Custom Designed, Printed
When you order foil stamped wedding invitations at Lovely Press, your guests will receive a timeless high-end quality they'll see – and feel – even before they open the envelope. Foil stamping is a specialty printing process that uses heat and pressure, with metal dies and foil film to apply your customization to paper, by way of specialty vintage machinery. The foil comes in rolls in a wide assortment of colors, finishes, and optical effects. Foil stamping is similar to letterpress and engraving and results in a slight impression on the paper.
Foil stamping elevates your invitation's elegance and impact. We print classic, elegant gold foil wedding invitations, of course – but we know that every wedding is unique. That's why we also offer foil stamping imprints in a range of metallics like coppers and silvers, as well as imprint foil pastels (yes!), primaries (pop!) and grounded earth tones. We offer everything in a range of shines that include mattes, satins or other "feels," giving you a full creative palette to design with. All foil wedding invitations and envelopes are printed on high quality Crane Lettra cotton paper.

You can begin designing from scratch right now by using our easy-to-use online customization tool. Or to simplify matters, choose a pre-made invitation and easily add the right messaging to make it yours. You can even partner in real time – right here online – with Lovely Press design professionals who are ready to help you create the perfect foil wedding invitations. No matter the route you choose, take all the time you need and save your work.

When you're ready to place your order, your invitation and envelopes will be printed in days on our foil stamp press in Chicago by our expert printer – our longtime partner in AR-EN.com – who has pleased brides, grooms, family and guests from coast to coast, including household name celebrities.

Welcome to Lovely Press. Congratulations, and… start today, for the perfect foil wedding invitations.
What Materials can be Foil Stamped?
Foil can be used on almost any paper, including magnet paper. Our smooth-surfaced gloss, dull/matte and lustre uncoated cover stocks are ideal for metallic foil or other foil stamped business card looks. Linen and other textured papers are not recommended for foil, since it will not look as smooth and crisp due to the paper's uneven surface.